Temperature + Humidity & Air velocity transmitter
Duct Type Temperature & RH Transmitte
HVAC supply or extract air measuring
Humidifier or dehumidifier controls
Pool, greenhouse or hencoop applications
Air quality applications, measuring and controlling humidity ratio of clean room
Maintenance free digital micro chip capacitive type sensing element
Estimated operating life min. 10 years
Operating voltage 24V AC/DC
Response time and temperature ranges are dip switch settable
Parameter: Temperature & Relative Humidity
Ranges: Humidity 0…100 %RH
Ranges: Temperature 0…50°C, 0…100°C, -30…+70°C, -40…+60°C (dip Switch Settable)
Sensor: Maintenance free digital micro chip capacitive type sensing element
Mounting Type: Duct type
Analog Output: 0-10Vdc, 4-20mA, 0-5Vdc, 2-10Vdc, 1-5Vdc
Options: RS485 Modbus, Display, Relay x1, Relay x2, Buzzer
Supply Voltage: 24V AC/DC
RH Accuracy: ±2%RH standard (±1%RH optional)
Temperature Accuracy: ±0.5°C (±0.2°C optional)
Protection: IP65
Approval : CE
Room Type Temperatrure & RH Transmitter
HVAC supply or extract air measuring
Humidifier or dehumidifier controls
Pool, greenhouse or hencoop applications
Air quality applications, measuring and controlling humidity ratio of clean room
Maintenance free digital micro chip capacitive type sensing element
Estimated operating life min. 10 years
Operating voltage 24V AC/DC
Response time and temperature ranges are dip switch settable
Parameter: Temperature & Relative Humidity
Ranges: Humidity 0…100 %RH
Ranges: Temperature 0…50°C, 0…100°C, -30…+70°C, -40…+60°C (dip Switch Settable)
Sensor: Maintenance free digital micro chip capacitive type sensing element
Mounting Type: Room type
Analog Output: 0-10Vdc, 4-20mA, 0-5Vdc, 2-10Vdc, 1-5Vdc
Options: RS485 Modbus, Display, Relay x1, Relay x2, Buzzer
Supply Voltage: 24V AC/DC
RH Accuracy: ±2%RH standard (±1%RH optional)
Temperature Accuracy: ±0.5°C (±0.2°C optional)
Protection: IP41
Approval : CE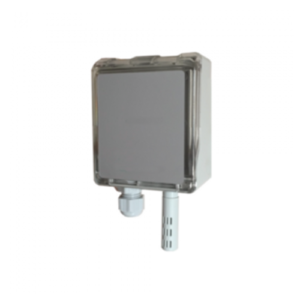 Outside Type Temperatrure & RH Transmitter
HVAC supply or extract air measuring
Humidifier or dehumidifier controls
Pool, greenhouse or hencoop applications
Air quality applications, measuring and controlling humidity ratio of clean room
Maintenance free digital micro chip capacitive type sensing element
Estimated operating life min. 10 years
Operating voltage 24V AC/DC
Response time and temperature ranges are dip switch settable
Parameter: Temperature & Relative Humidity
Ranges: Humidity 0…100 %RH
Ranges: Temperature 0…50°C, 0…100°C, -30…+70°C, -40…+60°C (dip Switch Settable)
Sensor: Maintenance free digital micro chip capacitive type sensing element
Mounting Type: Wall type
Analog Output: 0-10Vdc, 4-20mA, 0-5Vdc, 2-10Vdc, 1-5Vdc
Options: RS485 Modbus, Display, Relay x1, Relay x2, Buzzer
Supply Voltage: 24V AC/DC
RH Accuracy: ±2%RH standard (±1%RH optional)
Temperature Accuracy: ±0.5°C (±0.2°C optional)
Protection: IP65
Approval : CE
Probe Type Temerature & RH Transmitter
HVAC supply or extract air measuring
Humidifier or dehumidifier controls
Air quality applications, measuring and controlling humidity ratio of clean room
Maintenance free digital micro chip capacitive type sensing element
rH accuracy standard 3%rH or optional 2%rH
Operating voltage AC 24 V or DC 14…35 V
Analog output types: 0…10 Vdc, 0…5 Vdc, 2-10V, 1-5V and 4-20 mA
Simple and fast mounting
Parameter: Temperature & Relative Humidity
Ranges: Humidity 0…100 %RH
Ranges: Temperature 0…50°C, 0…100°C
Sensor: Maintenance free digital micro chip capacitive type sensing element
Mounting Type: Probe type
Analog Output: 0-10Vdc, 4-20mA, 0-5Vdc, 2-10Vdc, 1-5Vdc
Supply Voltage: 24V AC/DC
RH Accuracy: ±2%RH standard
Temperature Accuracy: ±0.5°C 
Approval : CE
Duct Type Air Velocity Transmitter
HVAC supply or extract air measuring
Clean room monitoring and control etc
Hotwire compact thermal sensor
Field selectable ranges
Zero & Span Calibrations
AV analog output signal as 4-20 mA and 0…10 Vdc
Optional Temperature output on request
Dip switch settbale response time and ranges
Operating voltage 24V AC/DC
Parameter: Air Velocity
Sensor: Hotwire
Mounting Type: Duct Type
Range: 0…1, 0…2, 0…3 and 0…5 m/s & 0…5, 0…10, 0…15 and 0…20 m/s (dip switch selectable)
Range: Temperature -30…+70 °C and 0…+100 °C (dip switch selectable)
Analog Output: 0-10Vdc, 4-20mA, 0-5Vdc, 2-10Vdc, 1-5Vdc
Options: RS485 Modbus, Display, Relay x1, Relay x2, Buzzer
Supply Voltage: 24V AC/DC
Accuracy: Air Velocity ±5% for 0…20 m/s, Temperature 0.5°C
Approval : CE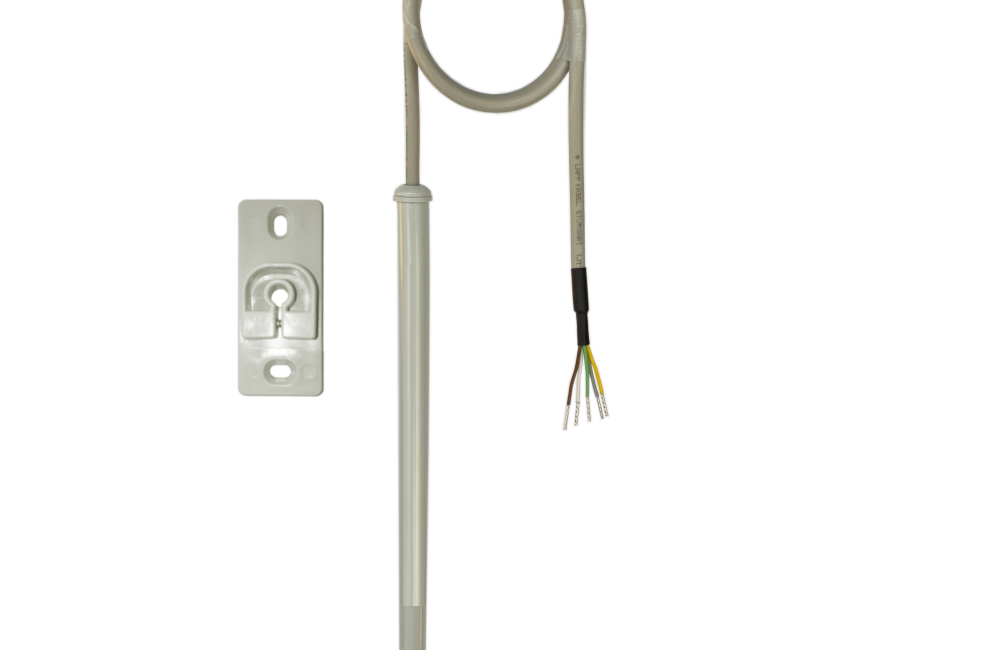 Probe Type Air Velocity Transmitter
HVAC supply or extract air measuring
Clean room monitoring and control etc
Hotwire compact thermal sensor
Fixed ranges: 0…1, 0…2, 0…5, 0…10 and 0…20 m/s
Special ranges possible upon request
Modbus / RS485 port
Calibration over Modbus
AV analog output signal as 4-20 mA or 0…10 Vdc
Dip switch settbale response time and ranges
Operating voltage 24V AC/DC
Parameter: Air Velocity
Sensor: Hotwire
Mounting Type: Probe Type
Range: 0…1, 0…2, 0…5, 0…10 and 0…20 m/s
Analog Output: 0-10Vdc, 4-20mA, 0-5Vdc, 2-10Vdc, 1-5Vdc
Options: RS485 Modbus
Supply Voltage: 24V AC/DC
Accuracy: ±5% of FS
Approval : CE
Duct Type Intrinsically Safe Temperature & RH Transmitter
HVAC supply or extract air measuring
Humidifier or dehumidifier controls
Pool, greenhouse or hencoop applications
Air quality applications, measuring and controlling humidity ratio of clean room
Digital micro chip capacitive type sensing element
Operating voltage 24VDC
Parameter: Temperature & Relative Humidity
Ranges: Humidity 0…100 %RH
Ranges: Temperature -30…+80°C
Sensor: Digital micro chip capacitive type sensing element
Mounting Type: Duct type
Analog Output: 4-20mA
Supply Voltage: 24VDC
Display: Yes, LCD display
RH Accuracy: ±2.5%RH
Temperature Accuracy: ±0.4°C
Protection: IP65
Approval : ATEX
Room Type Intrinsically Safe Temperature & RH Transmitter
HVAC supply or extract air measuring
Humidifier or dehumidifier controls
Pool, greenhouse or hencoop applications
Air quality applications, measuring and controlling humidity ratio of clean room
Digital micro chip capacitive type sensing element
Operating voltage 24VDC
Parameter: Temperature & Relative Humidity
Ranges: Humidity 0…100 %RH
Ranges: Temperature -30…+80°C
Sensor: Digital micro chip capacitive type sensing element
Mounting Type: Room type
Analog Output: 4-20mA
Supply Voltage: 24VDC
Display: Yes, LCD display
RH Accuracy: ±2.5%RH
Temperature Accuracy: ±0.4°C
Protection: IP65
Approval : ATEX
Dew Point Transmitter (Duct / Room / Remote)
Semiconductor and microelectronics industry
Pharmaceutical industry, paper industry Environmental chambers, drying equipment, spraying equipment
Agriculture, farms
Greenhouse, storage room, cooling chamber
Building Automation
Environment and ventilation control
Remote probe w/M12 connector
Metal probe reduce electromagnetic interference
2-wire 4…20mA with selectable physical quantity
0~100%RH measurement, temperature range up to +120°C
Probe pressure up to 10 bar
Display and touch buttons for convenient operation
Excellent quality and stable measurement
IP65 protection
Parameter: Dew Point
Dew Point Ranges: -20…60°CTd, -40…60°CTd, -40…20°CTd, -60…20°CTd
Temperature range: 0…120°C
Mounting Type: Duct type, Room Type, Remote Type
Analog Output: 4-20mA, 0-10Vdc, 0-5Vdc, 0-1Vdc, RS485 Modbus
Supply Voltage: 24VDC
Options: LCD display with touch buttons, Alarm
Accuracy: ±3°CTd & ±5°CTd (as per range selection)
Probe Material: Aluminium (standrad), Stainless Steel (optional)
Protection: IP65
Approval : CE
Industrial Grade High Temperature & RH Transmitter
Semiconductor and microelectronics industry
Pharmaceutical and paper industry
Environmental chambers
Drying and spraying equipment
Agriculture, farms
Greenhouse, storage room
Cooling chamber
Building Automation
Environment and ventilation contro
Remote probe w/M12 connector
Metal probe reduce electromagnetic interference
2-wire 4…20mA with selectable physical quantity
Probe pressure up to 10 bar
Display and touch buttons for convenient operation
Excellent quality and stable measurement
1-point user adjustment
Modbus RTU protocol
Alarm output
Dip switch settable ranges
Configure adapter support
Sensor type: Capacitance Type
Temperature range: -40…120°C, -40…160°C, 0…100°C, 0…150°C, 0…200°C (dip switch settable)
RH range: 0…100%RH
Output: 4-20mA / 0-1V / 0-5V / 0-10V / RS485 Modbus
Accuracy: ±0.3°C & ±2%RH of FS
Operating temperature: 0-120°C
Probe material: Stainless steel
Protection: IP65
Options: Display, Alarm, Display with Touch button,
Power supply: 24VDC
Industrial Grade High Temperature Air Velocity Transmitter
Monitor air velocity in supplying gas consumption dry process in industry process
Compressed air consumption measurement
Building / Factory / Clean room / Hospitals / Semiconductor / Electronics
Paper / Printing / Textiles / Steel and iron Industry / Food
Chemical / Pharmaceutical / Biotechnology industr
IP rating:IP67, rugged aluminum case, fit in variety harsh environment
Capable of temperature compensation
Linear calibration air velocity by computer, analog output or RS-485(Optional)
High-speed, high-accuracy measurement, quickly respond
Thermal mass flow sensor
LCD, display air velocity and temperature
Switch multifunction physical quantities:[m/s], [ft/s], [km/h], [mph], [kont]
Dip switch and RS-485 function
Sensor type: Thermal mass flow sensor
Measuring range: 1, 2, 5, 10, 20, 40, 60, 90 m/s
Output: 0-20mA / 4-20mA / 0-1V / 0-5V / 0-10V
Accuracy: ±1.5% of FS
Operating temperature: 0-100°C (0-120°C & 0-150°C optional available)
Probe material: Stainless steel
Protection: IP67
Power supply: 24VDC
Measure Air velocity in HVAC Syatem
Easy Installation in Air Duct
multipoint Sensing point for greater accuracy
Accuracy: ±2%
measurement units: pa, m/s, fmp
length: 4″, 5″, 6″….12″ as per customer requirement
Air Flow Measuring Station
Airflow Measuring Stations provide accurate, repeatable
measurement of air movement in HVAC ducts.
The Probes patented ellipticallyshaped sensor design with improved aerodynamic characteristics outperforms
more traditional devices, and overcomes loss of accuracy caused by fluid separation at the sensor body. It is designed to maintain a constant parallel airflow pattern over the static sensing ports for more accurate, steady signals
under all duct conditions. The elimination of separation results in a stabilized static pressure signal, helping to eliminate "hunting" during fan control.
Velocity Range: 300 – 5000 FPM (1.5 – 25 m/s)
Probe Length: 8 – 120″ (200 – 3000mm)
Accuracy: +/- 2% or 3% of FS
Repeatability: +/- 0.1% F.S.
Temperature Ranges: -40° to 180°F (-40° to 80°C)
Turn-Down Ratio: 17:1
Pressure Loss: 0.004″ w.c. @ 700 FPM (1 Pa @ 3.5 m/s)
Materials (Probe): Anodized Aluminum or PVC
Materials (Station): 14 ga Galvanized Steel
Flow Coefficient: 0.785